current download version available 3.91 Beta
bugs knowed with this version
*
It is not a real bug, but since the operating system where I develop the software are set to italian, some system messages will be showed in italian language.
When installing you see this message:
"Programma di installazione di Edo Template Maker. Impossibile installare i file di sistema o aggiornare i file cond......"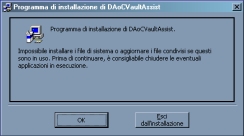 This is the "classic" setup messages means that the setup program cannot install some files because they are busy, try to reboot and reinstall the software with no programs running.
*
After installing when you try to launch Edo Template Maker you see this message:
"Runtime error 429, Active x component cannot create object."or "Runtime error 430, Class does not support automation or does not support expected interface."or "An error occurred while loading data source 1. ErrorCode = 430" or again ErrorCode = 339". This description can be also showed in italian but the important thing is the error code.
You usually get this error when MDAC isn't installed at all or is not installed properly. MDAC is short forMicrosoft Data Access Components which is a set of drivers that the Edo Template Maker needs for database communication. MDAC is included in Win2000 / XP. On Win9x, Win NT and Win ME, it must be installed.
Please download MDAC 2.x http://www.microsoft.com/data/download_25SP1.htm and install. You also may need to uninstall/reinstall DAoCVaultAssist software after installing MDAC.

Complete version with EdoTemplateMaker.exe and all the libraries it needs to run

Only the EdoTemplateMaker.exe (if you alredy have in your system the VBRun6 libraries)
After download, unzip and copy only the exe file in the instalation directory, copy the mdb file only if is needed